Description
PCRClean PB is a sister product of PCRClean DX. PCRClean PB is specially designed to replace Ampure PB which is used in Pacific Biosciences platform cleanup.
PCRClean PB is the counterpart for Ampure PB.
~~~
PCRClean PB purification system utilizes Aline's proprietary paramagnetic bead technology for quick high-throughput purification of DNA fragments. Aline PCRCean PB is designed to directly replaces Beckman's Ampure PB without any protocol changes while providing end users superior efficient adaptor removal in Pacific Biosciences (Pac Bio) NGS Library Prep and primer-dimer removal in all other down stream applications.
PCRClean PB purification system recovers amplicons greater than 100 bp with consistency and reliability. The recovery efficiency of the PCRClean PB for small and large amplicon sizes is superior to the traditional filtration PCR cleanup methods and directly replace Ampure PB (Beckman Coulter/Agencourt)
Applications:
Next Generation Sequencing using Pac Bio platforms
Product Highlights
Flexible Clean-up: High recovery of amplicons with the option to choose recovery of >100 bp or >60 bp with modified protocol
Efficient removal of unincorporated dNTPs, primers, primer dimers, salts and other contaminants
Processing time: 15 minutes/96 samples
Scalable: Tube, 96 and 384 well plate formats
Datasheet
Performance is similar to PCRClean DX (Ampure XP direct replacement)  Click here.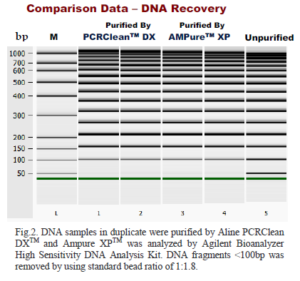 References from Journal Publications – PCRClean DX
1.Perosser et al. Molecular Ecology Resources, (2016) 16, Page 490; DNA barcodes from century-old type specimens using next-generation sequencing
http://onlinelibrary.wiley.com/doi/10.1111/1755-0998.12474/pdf
2.Sun et al. Proceedings of the National Academy of Sciences of the United States of America, 2012
http://www.pnas.org/content/110/9/E808.full.pdf+html