Description
Detail of the product  
PureSEQ-MP utilized Aline's proprietary bead technology for the removal of dye terminator, primer-dimers, salt and nucleotides in traditional Sanger Sequencing.
PureSEQ-MP is the most upgraded product in Aline's dye terminator removal line. It effectively removes dye terminator, salt and nucleotides.
PureSEQ is a superior direct replacement of CleanSEQ* with extra benefits. Superior Quality. Superior Value. Guaranteed!
Features and advantages:
Longer reads with High QV Scores close to 1000 bp
Suitable for a wider range of DNA template concentrations including low concentration DNA templates
Even lowered repeat rate with a pass rate over 90% or higher
384 and 96-well format friendly. Especially geared towards 384 well format
Designed to directly replace CleanSEQ with an additional feature of eliminating "GC" n+1 peaks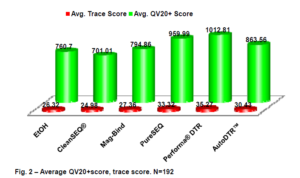 Data Sheet
To view the Data Sheet, please click here.
Order information
All Aline products including PureSEQ MP can be ordered through Fisher Scientific.  Fisher Scientific catalog number is NC0950736.
See the link below.  https://www.fishersci.com/shop/products/aline-pureseq-50ml-5000-10-000/nc0950736
Protocol
Use same protocol as CleanSEQ (Trademark by Beckman Coulter)
*BigDye is a trademark of Applied Biosystems. CleanSEQ is a trademark of Beckman Coulter.